Stronger Together! Carey and Upper Sandusky communities come together in support of the McMillan family. 💙🤍🧡🖤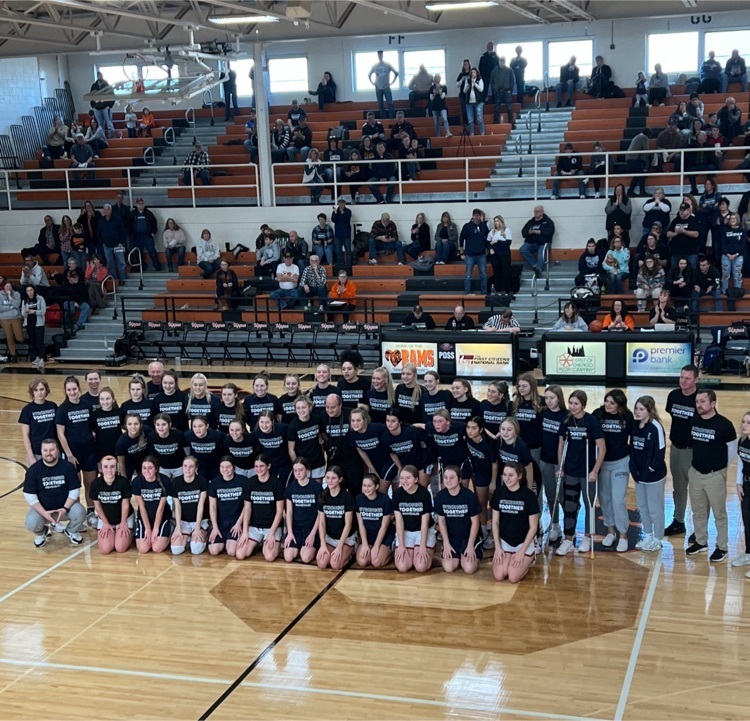 UPDATED 2022-2023 District Testing Info/Schedule! Any questions please contact your child's school main office!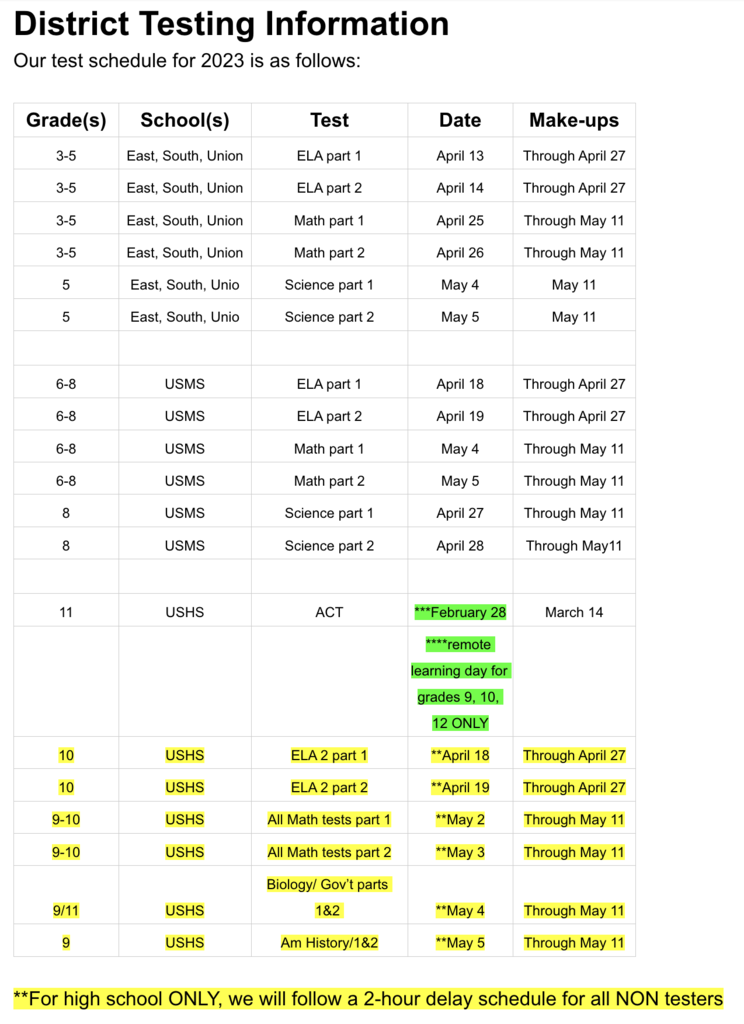 USHS Spring Sports Parent Meeting - Tuesday, February 21st!!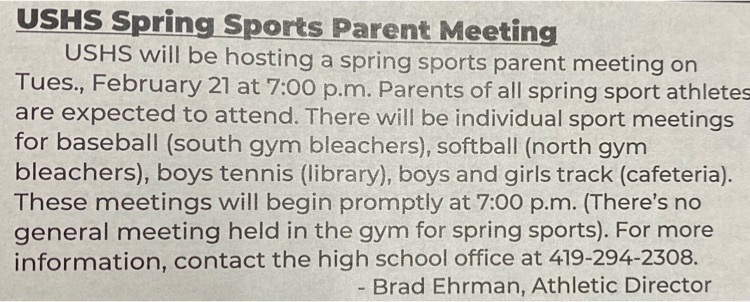 Kindergarten Registration is now open for the 2023-2024 school year! Click the link below to access the online form! Any questions please call the Central Office at 419.294.2306.
https://tinyurl.com/2324kindergartenreg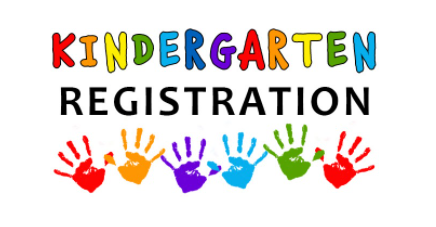 Please view the attached statement from Superintendent Landversicht regarding recent newspaper articles.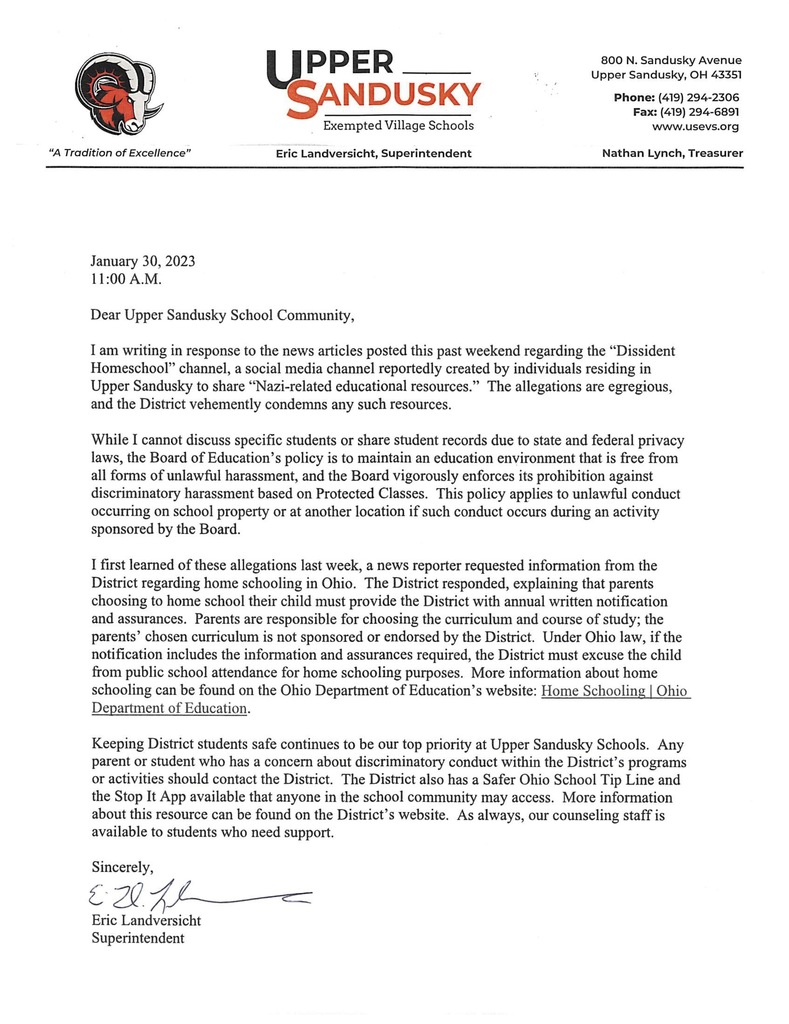 Today is January 27 and Upper Sandusky E. V. Schools are on a two hour delay.
We're just a few weeks away from beginning band recruitment for current 4th grade students! Looking forward to welcoming our next class of outstanding musicians!

School meals are for all students! Check out our latest school menus by visiting
www.usevs.org
and select "Dining" under your school's webpage.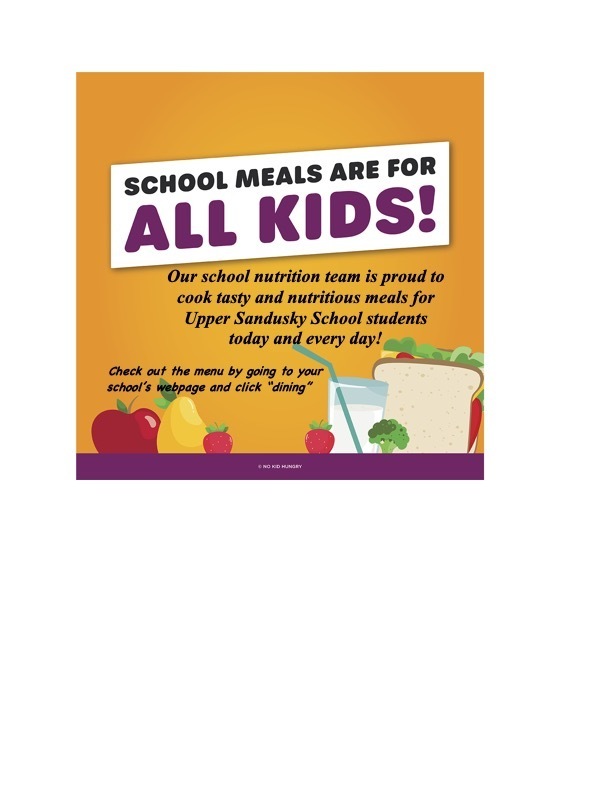 All USHS and USMS athletic practices have been cancelled for today. 1/25/23
Hello Upper Sandusky parents, families, and staff. I am not a meteorologist, but the weather forecast for tomorrow does not look promising. The timing of this winter storm could bring serious challenges to both morning and afternoon transportation. Based on the forecast and to give everyone time to make arrangements Upper Sandusky schools and offices will be closed tomorrow, Wednesday, January 25. Stay safe.
We have a pep band and Rambo is here tonight. It is a great night be a Lady Ram fan!!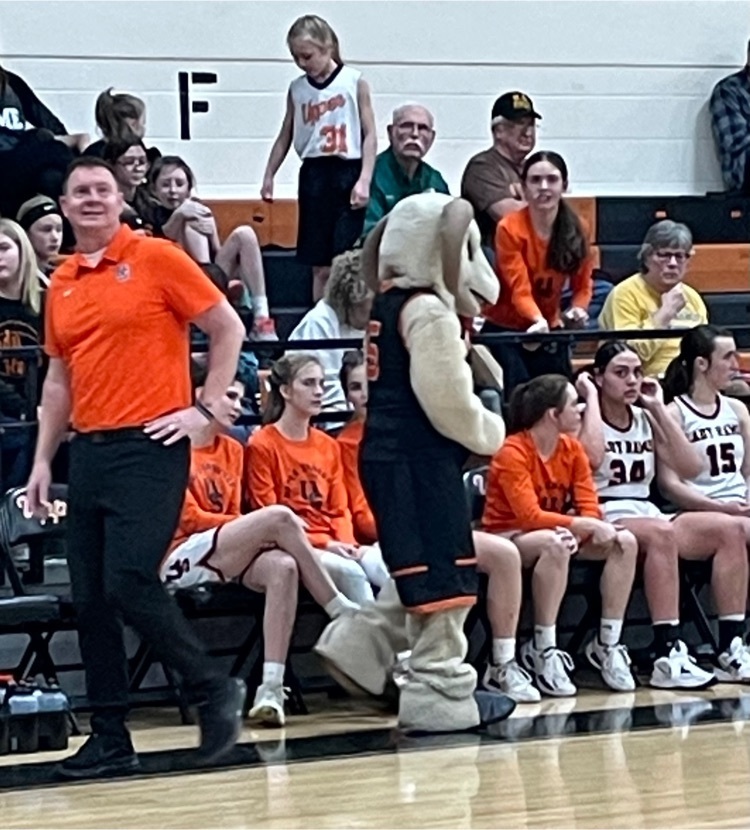 The Kenton vs. Upper Sandusky girls basketball games are still "on" for tonight at USHS. The jv game will begin at 6:00 p.m. followed by the varsity.
USHS athletic practices will be held as normal this afternoon.
The USMS boys and girls basketball games with Carey have been cancelled and will not be rescheduled.
Due to icy road conditions on country roads Upper Sandusky schools are closed today.
Good morning, the main roads are clear but the side roads are extremely slippery. Upper Sandusky E. V. Schools will be on a two hour delay.
The Kenton vs. Upper Sandusky girls basketball games on Monday, January 23rd, 6:00 p.m. will be played at Upper Sandusky High School. The jv game will begin at 6:00 p.m. followed by the varsity
Carey will play Upper in the N10 Freshman Boys Basketball Tournament on Monday, February 6, 5:30 p.m. at USHS. Admission will be $5.00 and only N10 passes will be accepted.
Come join in on the fun! Our community pep band will play at tomorrow nights Lady Rams basketball game vs. Mohawk. Practice will be held before the game in the band room at 5:30. Hope to see you there!!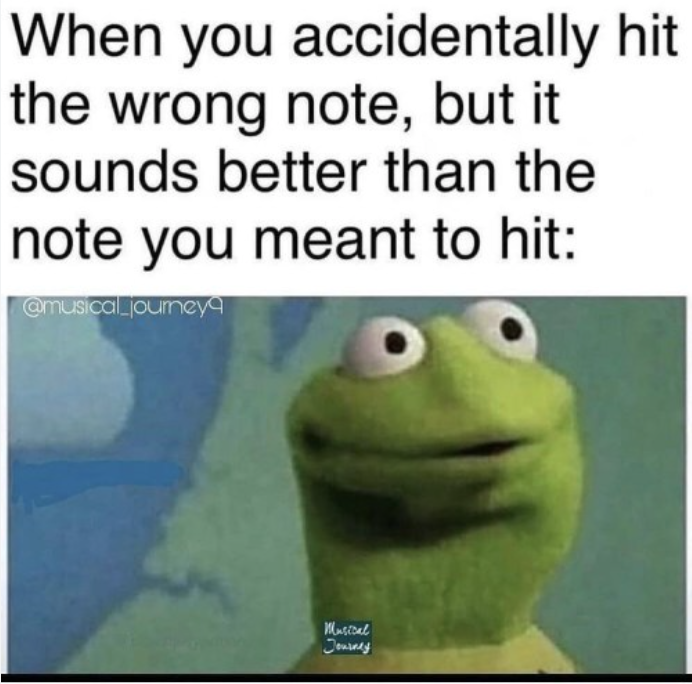 Food Drive at USHS! January 13th USHS Boys vs Wynford January 17th USHS Girls vs Mohawk Please bring non-perishable food items to either home basketball game to be donated to a local food pantry. Thank you for helping us support the community!